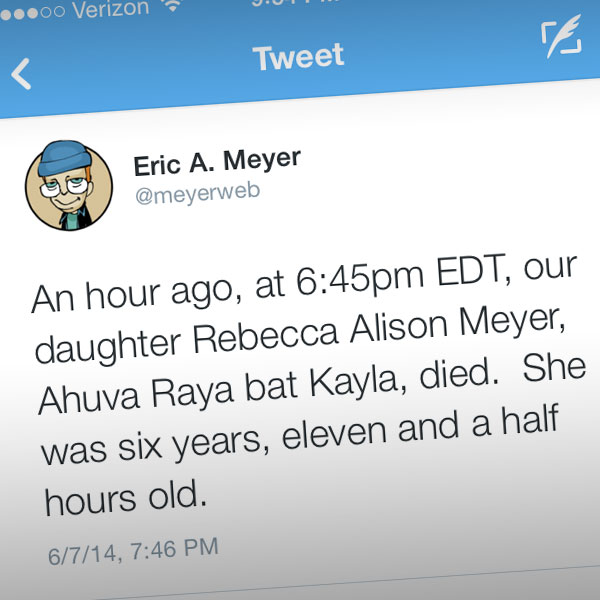 The Web is an amazing thing. Computers, wires, switches, networks, data centers, and all kinds of impersonal components, yet we use it in so many personal ways. We share emails, photos, and stories with family and friends often at great distances. Sometimes relationships are born through the Web.
Sometimes we simply make superficial connections. We follow people on blogs and social media that we will never meet and with whom we will never truly connect.
One such connection took a turn an unexpected turn.
I have been involved in Web design to one degree or another since 1995. As I got deeper into Web design and development, I became interested in Web standards and a niche data format standard called microformats. It was through microformats that I first heard of Eric Meyer. I read some of his books and perused his website. Never met him. Never emailed him. Never tried to be his "friend" on Facebook. However, a while back I did follow him on Twitter—along with about 75,000 others. Again, no personal connection.
I expected Tweets about Web standards and other tech stuff.
What I saw was the outpouring of a father chronicling the last year or so of his daughter's life. A life that has touched many who will never meet her, never speak to her, and never see her grow up.
From his Twitter account, I could tell her time was short. Today was her birthday. She turned six. Today she breathed her last breath.
I don't know the Meyers family at all. I won't be flying out for the funeral. I won't be sending flowers, but as a father, I have a sympathetic sinking feeling in my gut. I can't imagine what they have gone through and are going through now. I pray I never know.
I have been looking at my children differently today. I want to hold them more, hug them harder, and tell them I love them more often. In short, I want to be a better dad.
What I have learned from Eric about Web standards and microformats doesn't really matter. What I have learned from him about priorities in life is life-changing. Thank you, Eric, for sharing your Little Spark with the world.